Part 1 in a series featuring Member Advocates, Concierges, and Provider Operations Specialists
That personal connection is what makes us different … Confidence and Bluebook knowledge are important, but empathy and the bond between the Member Advocate and the member are our top priorities.
-- Cara Valentine, Director of Operations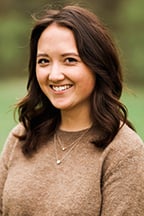 As an undergrad at Baylor University in Waco, TX, Cara Valentine was on a pre-med track when she made an important discovery—she didn't want to practice medicine. But she still enjoyed healthcare and wanted to find another significant way to serve in the industry.
After graduating, she enrolled in Lipscomb University's MBA program in Nashville, TN, and began the next phase of her career soul-search by focusing on the "business side" of healthcare. During her last semester, Cara came across the Operations Coordinator position at Healthcare Bluebook (Bluebook). Even though she knew nothing about the company, she applied, interviewed, and was hired in 2015.
I had no idea what I was doing. I knew some aspects of the healthcare industry but didn't know a lot, just what I had learned in my studies. But, starting out as I did, I was able to be boots on the ground, assist members with Bluebook and get to know how the business works.
When her direct manager resigned, Cara absorbed those responsibilities, which included reporting, managing Salesforce, and helping develop the engagement rewards program.
Soon, Cara was playing a pivotal role in building one of the organization's key functions, Member Services, for which she now manages a team of member advocates, concierges and provider operations specialists. In retrospect, Cara believes her lack of knowledge became one of her key assets as a manager.
I realize now that I was very fortunate because I came into Bluebook completely naive. It's important that the team understands that I've been where they are. There's a level of trust built-in because I know what we need to do as a team as we develop and expand our offering.
Changing focus
From its earliest days, Bluebook had a member services function, but the focus was on promoting the functionality of the tool, which is easily accessible from laptops, tablets, and smart phones. The rationale behind the solution was to create a simple tool that was so intuitive that members wouldn't need assistance, essentially creating a self-service product and platform, Cara explained.
But as the company grew and evolved, the perspective on member services "did a 180" and Bluebook resolved to build more than a traditional customer service department typically characterized by automatic replies and voicemail.
We realized that the personal connection with our members is what makes us different. If we were going to do this, we wanted it to mean something. Even with a simple tool, people need that personal connection in a time of need.
Cara's ground-level involvement also helped bridge the gap between strategy and vision by demonstrating to leadership and other stakeholders what the strategy looks like when talking to members on the phone—a crucial element as Bluebook develops and delivers products that impact lives.
Building a team from the ground up
Changing the focus of Member Services from the tool's functionality to Bluebook's member experience also meant changing the way new team members were hired. In other words, an applicant's experience in a traditional customer service role wasn't necessarily a point in the candidate's favor.
In fact, the skills required for the re-focused department couldn't be taught or learned, according to Cara.
You can't force people to want to help—you have to find people who are naturally inclined. We've all had the experience of calling a customer service line and feeling like they don't hear you, or even want to hear you. We wanted to ensure that every member who interacts with Member Services has a positive experience.
Individuals with sincere empathy, along with skills in relationship management and communications, are uniquely equipped to help Bluebook's members—compassion that Cara says is clearly detected in phone calls and emails.
Ultimately, the member services team wants every Bluebook member who calls to come away from the conversation feeling like they have been helped. That "rock star level of service" is even outlined in the job description and became the foundation for the member concierge, a personal guide available to members through Bluebook CareConnectSM.
The member concierge provides one-on-one guidance to members who need high-priced complex procedures by helping them identify and schedule care with high-quality affordable providers near them. The concierge takes care of all essential details, including medical records transfers if needed, and stays connected with the member throughout their care journey.
Mutual attraction
Compassion and personal interaction are hallmarks of Bluebook's Member Services department They're also the very qualities that first attracted team members to their roles, most having come from traditional settings where frustrated customers usually called in to vent or seek a solution to a problem.
With the innate ability to empathize and connect with people on a deeper level, Bluebook's team of advocates and concierges shared a common goal when they interviewed for their positions—they were all looking for meaningful roles that would genuinely allow them to help others.
You can't force people to want to help—you have to find people who are naturally inclined.
When Cara screens potential team members, the first step of the process is simple.
It starts with the first phone call. Do I enjoy talking to them … can I 'hear' them smile while we're talking?
As a Bluebook client, whether you're an employer, broker, consultant, or TPA, employees and enrolled members receive more than ordinary customer service when they need assistance. Bluebook's Member Services team is committed to serving members through meaningful interactions with compassionate professionals who actively listen, empathize, and truly care about their needs.
To schedule a demo, or learn more about Bluebook's full suite of services, including Bluebook CareConnect, contact us today!
Coming up in Part 2 of this series: Meet Bluebook Member Concierge, Jami Carswell.