Part 2 in a series featuring Member Advocates, Concierges, and Provider Operations Specialists
A lot of the calls I receive are from members who are desperate. They're looking at an $80,000 bill for surgery and they need help. To hear someone say, 'I'm here, I've got your back. You're not just a number. I want to know your name. I want to know your story.' That is something that brings me joy.
Jami Carswell is an extraordinary individual. She loves doing what many people would loathe—the painstaking process of digging in and solving price and quality mysteries to get to the heart of a well-rounded fairly-priced care continuum. Or as Jami described it … doing the dirty work to help someone in need. It's also part of what makes her a perfect fit as a Bluebook CareConnectSM member concierge, Healthcare Bluebook's (Bluebook) latest service innovation.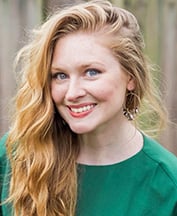 In 2018, Jami joined the Bluebook Member Services team as a member advocate and became passionate about helping members in need of complex high-cost procedures navigate to the best, and most affordable, care for their needs.
She also developed expertise assisting members of healthcare sharing ministries, one of the many organizations Bluebook serves in addition to employers, health plan administrators, brokers and consultants, and third-party administrators.
Sharing ministries are uniquely designed to help the uninsured pay for medical expenses by sharing costs with other members through a pooled fund. Depending on their plan, a member pays a set amount per "incident," but must submit a request to the sharing ministry for everything over that amount.
When Jami's manager Cara Valentine asked if she would be interested in the member concierge role to support clients who implement Bluebook CareConnect, she jumped at the chance and began a new journey to restore hope to members running out of affordable care options.
An $80,000 procedure for a child in pain. Recently, Jami assisted a sharing ministry member who was trying to schedule a multi-level spinal fusion for her 14-year old daughter suffering with chronic pain from severe scoliosis. But the provider required an upfront payment of $81,000, which was more than the mother could afford. The ministry submitted her information to Bluebook CareConnect and Jami went to work, determined to find a solution.
When I first talked to the mom, she and her daughter were devastated because they had been preparing emotionally for this very complex surgery. Her daughter was in so much pain and to learn that they couldn't afford the surgery hit them hard.
Jami and the team dissected each piece of the code conundrum that comprised the 13-level fusion. After a detailed review using Bluebook's vast resources, they discovered that the cost was only about $10,000 over the estimated Fair Price™, which placed it in range of negotiation.
But when Jami called the member to share the good news and ask for permission to negotiate a lower price, the mother was reluctant.
She had been put through the ringer and, understandably, was overwhelmed and emotional. She apologized but didn't want to proceed and was prepared to take out a loan to cover the cost. I assured her we were here to support her however she needed. Three hours later, she called back and said, 'If you can get this pushed through, it will be a miracle.'
Armed with viable context for the case, Bluebook CareConnect negotiated with the provider to reduce the fee by $10,000 and the ministry remitted payment for the surgery within a week. The teenager who had suffered with so much pain for so long underwent successful surgery on June 23rd, 2020. Hope is in the details:
I recently had a need for my daughter [who] is still recovering from an extensive surgery. The best I could ever have done is to contact Healthcare Bluebook … These people are simply fantastic! … I am [especially] thankful for Jami, she was my contact person ... She is such a fantastic woman, kind, caring, loving and effective. But the whole team is amazing! [My daughter] had a special need, she needed a specific skilled surgeon … I tried to negotiate prices … Even I thought there was no possibility or chance for lower fees … In one week [Bluebook] arranged the whole financial payment and yes, they got a better price than I could have ever gotten … I am so thankful for Healthcare Bluebook … They truly are by your side.
Could you tell a cancer patient to wait for lower cost care? Neither could Jami. When a member with prostate cancer contacted Jami, he needed a specific type of oncology-related prostatectomy, which was more complex than the standard procedure and required an upfront payment of $30,000, which he could not afford.
After researching the multiple procedure codes and performing a full review, the Bluebook team determined that the price for the procedure was reasonable, and the sharing ministry agreed to fund the procedure. Hope is in the details.
The patient would not have been able to determine the fair price on his own and would have had to pay the entire cost out of pocket. The sharing ministry deserves a lot of credit for reaching out to us and asking us to dig deeper to see if we could find a better price.
Without guidance, it's nearly impossible for a patient to determine the fair price for a complex procedure with multiple procedure codes. A Bluebook CareConnect member concierge, like Jami, understands the intricacies of complex surgeries and is highly skilled at finding the best, reasonably priced care for a member's needs, thus relieving them of that burden—the part of Jami's job she loves most.
I called the member to let him know they were funding his procedure and he cried over the phone. His wife cried with him, I cried—it was a very emotional experience. I mean, it's cancer. You don't want to tell them, 'if you can wait another couple of months, we can probably find a facility with a lower price.' He didn't know if he had a couple of months.
Going the extra mile
Interactions with members experiencing a health crisis can be extremely emotional. In addition to the potential financial impact, they may be in physical pain or overwhelmed by decisions that must be made quickly. Bluebook's member advocates and concierges are gifted with empathy and patience and deeply committed to supporting members in ways far beyond the norm.
Many people wouldn't be comfortable or effective in this type of role because of the emotional component, explained Jami.
Not only do you listen to another person's heart-wrenching story, you must also be willing to allow those emotions to come up in yourself.
When asked what she most looks forward to in the days ahead as people learn about Bluebook CareConnect, Jami's response is exactly what you would expect.
More opportunities to help, more volume in calls and hearing their stories.
A member concierge is available to assist all members whose benefits include Bluebook CareConnect In-Network Navigation.
Learn more about Bluebook CareConnect member concierge support, or Contact Us to try our free search tool or to schedule a Bluebook demo.
Part 3 of this series features Vince Carroll, Provider Operations Specialist for Bluebook CareConnect.