Part 4 in a series featuring Member Advocates, Concierges, and Provider Operations Specialists
A huge part of the member advocate's role is listening to the stories that people share with us. We look for people who understand how a person can be impacted just by having a good experience with one of us.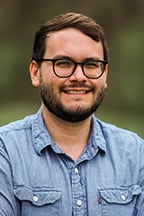 When Wes Brown interviewed with Healthcare Bluebook (Bluebook) in 2018 for a role in Member Services, he was immediately drawn to the position when he learned that the company was focused on giving back to its members through positive interactions with member advocates.
With a healthcare and health insurance background, Wes had been working in a traditional customer service role with a service provider but was looking for an opportunity to develop his leadership skills. The more he learned about Bluebook and the structure of its member services team, the more he was convinced he had an incredible opportunity in front of him.
At the time, Wes says there was a lot of anticipation that the company and the member services team would grow and have more interaction with members, not only in volume but through more meaningful conversations with members seeking guidance. The concept was new to him because in previous customer support roles, the only time a person called was when they had an issue. How he interacted with customers was not the priority.
When I learned that the member experience at Bluebook is the key focus, more than the volume of calls, I recognized the unique opportunity. I was very interested in helping to grow the team and ensure that we're hiring the best people to meet our members' needs. I also wanted to hear any ideas or feedback from people already on the team so that we could continue to grow and improve.
Early on, team members told Wes that people often reached out because they needed someone to talk to and were thankful to have a member advocate who would provide accurate and honest information on the cost and quality of healthcare options. The more he heard those stories, the more Wes realized he would have the chance to help people in meaningful ways.
Though the concept is catching on among today's healthcare consumers, most people are not accustomed to shopping for healthcare like they would other services. When an employer provides Bluebook to employees and their dependents as an added healthcare benefit, many call the member services team for basic information on how Bluebook works and how the solution can help them save money on a medical procedure or service.
When a member calls, the advocate immediately tries to gage their comfort level with digital tools. If they were on the website and became confused while searching for an MRI, the advocate walks them through the process of finding the information and educating them along the way. If a member is not comfortable using the mobile app or digital tool, an advocate will assist them in the way they are most comfortable.
It's really great to be able to educate people on how to use the tool themselves, but we also know that every opportunity someone has to talk to a member advocate creates a better experience for them and gives us a great opportunity to change the way they view the process of finding good healthcare, so we always encourage them to reach back out to us whenever they need to.
Choosing member advocates
On the surface, a member advocate candidate may think the role is simply a phone center job like standard customer service, but according to Wes, the position has very specific requirements. At the top of his list is identifying candidates who are passionate about Bluebook's purpose to protect patients by exposing the true quality and cost of healthcare services. The next top quality is empathy.
We look for people who are already thinking about ways to improve the member experience, especially if they have a background in customer service. A huge part of the member advocate role is listening to the stories people share. We look for individuals who understand how a person can be impacted just by having a good experience with one of us.
Often, a member calls Bluebook after they've had a frustrating experience chasing insurance companies and providers to schedule a procedure. By the time they speak with a member advocate, they're discouraged and exasperated. Wes says his team's goal is to make sure that every member walks away thinking their interaction with Bluebook was the best they've ever had with a support team.
Our job isn't just to educate them about the tool—there's a lot on the website already for that—our job is to take that moment and cement that experience in their mind.
Some conversations are more difficult than others. It's not always easy to sympathize with someone who is upset. But Wes explains that's exactly when a person needs empathy the most. Most often, they're looking for help and don't know where to turn. He recalls one member who had a rewards issue and was clearly upset.
After I talked to him and we got to the root of the problem, I learned that his wife had been undergoing a lot of procedures and he was at his max level for stress. He just needed an opportunity to vent. The reward was $100, which was a huge amount to him since he was worried about how they were going to pay for her surgery. Ultimately, we were able to find a solution and help him.
Conversations with members who are battling life-threatening illnesses or need a procedure that could severely alter their quality of life are also difficult, but meaningful.
I don't think you ever quite get past that feeling when somebody tells you they're going through chemotherapy. It's hard to hear that, but it's also great to be able to talk to that person and be an advocate for them during a difficult time.
The difference a reward can make
Bluebook offers clients the option to implement Engagement Rewards as part of their benefits program to provide employees and enrolled members with a powerful incentive to use Bluebook to schedule services with high-value (green) physicians and facilities.
Standard reward amounts for a wide variety of common shoppable procedures range from $25 to $1,500 and can be distributed to members via checks, HSA/HRA contributions or wellness points.
When a member talks about how a reward made such a difference in their life, I realize the impact we can have on people. Some may say, 'this $25 reward or this $100 reward is going to help me pay my bills this month.' The amount might seem insignificant until someone tells you their reward money could be the difference between paying the rent or buying a meal. Those stories stick with us.
Even when a member isn't eligible for a reward for a specific procedure, the advocates still take the opportunity to break down the cost variance between facilities and explain how choosing "green" facilities can save them as much as $6,000 on some procedures—cost savings that not only decrease out-of-pocket expenses but also help lower their employer's annual medical benefits costs and the cost to employees.
When friendships are made
In October 2019, Bluebook Founder and Executive Chairman, Jeff Rice, M.D. received a handwritten letter from a 77-year-old military veteran who needed help finding a good dentist. Even though Bluebook does not currently provide information on dental providers, Dr. Rice asked Wes to follow up with the gentleman to see if Bluebook could assist him in any way.
It was very touching. He was just looking for some help and didn't know where to start. We looked up some providers in his area to get some price quotes, printed them out, packaged them up and wrote back to him since he'd mentioned he wasn't comfortable with a computer. I didn't know if we'd hear back from him or not.
But they did and the team has since had several interactions with the man and his wife who initially just wanted to say thank you "because he said no one else would have written back."
In fact, all communications have been in writing, which is unusual in this digital age. But Wes says there was no question, which further demonstrates the team's commitment to help people who need assistance.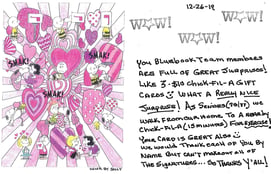 If he's going to take the time to write to us, we thought we should do the same for them. Their letters always brighten our day. His wife uses colored pencils on coloring book pages. They both sign it and send us a letter. Just about every holiday since then we've heard from them.

Prior to working-from-home, every card or letter from the couple was posted in the office common area where employees enjoy reading notes and personal stories from members who have benefited from Bluebook—important reminders that they're doing the right thing, according to Wes.
It would have been easy to say that because this person isn't a Bluebook member through an employer, we don't have an obligation to help them, which is how a lot of traditional customer service departments would view the situation based on volume alone. Or they simply don't want to take the time to help them.
As Bluebook and the member services team grow, along with the volume of calls, Wes says he hopes that the team will continue to take time with people who call in.
Maybe we don't build that same level of connection with every person, but the opportunity to go the extra mile is always there."
What makes this support team different?
Wes has been excited to see the individual growth of each team member and the level of trust they've developed with each other over time. Knowing that they're making the right decisions that benefit Bluebook members is the team's driving force and motivates them to be proactive in their service to members and clients.
I've seen huge growth in that way for our team. Typically, traditional customer experience teams have a lot of turnover because there's not a real mission or team members don't feel they're a part of that mission. That's not the case at all with this team. Everyone feels like they're contributing to our ultimate purpose to protect patients, so they know they have a direct impact on our members when they reach out to us.
Traditional customer service environments are also very metric-driven and focused on the volume of calls and average call times, which can inhibit meaningful interaction. While Bluebook also relies on metrics, Wes says he doesn't focus on monitoring individual calls, which is "by design" so that advocates are empowered to take the time they need to assist members.
We do measure averages. The average phone call for us right now is around 3 minutes. But we also know the complexity of healthcare -- you can't help everyone in that same time frame. Some people who call are dealing with the most complex situation they've ever dealt with in their life. To me, we can devote 15 minutes or 2 hours to somebody who needs a listening ear. We try to leave that open and I think it's a huge part of what makes people want to stay on this team.
Member advocates are available to assist all Bluebook members with finding affordable high-quality healthcare.
The Engagement Rewards program is one of Bluebook's best practices that encourages employees to schedule care with high-value providers, which ultimately lowers annual medical benefits spend and out-of-pocket costs for enrolled members.
Members whose employers implement Engagement Rewards are eligible to receive rewards on hundreds of common shoppable procedures with extraordinary cost-savings potential.
Learn more about Engagement Rewards or listen as member employee Cindy Blackburn shares her rewards story.
You can also Contact Us to try our free search tool or to schedule a Bluebook demo.