Part 3 in a series featuring Member Advocates, Concierges, and Provider Operations Specialists
I get a lot of staff members and billing offices who are just reading me prices. I explain that I need a breakdown of those prices and for some, it's the first time they've ever been questioned. It harkens back to our purpose to disrupt the process and say, you can't just throw a price tag on something without an explanation.
With a master's degree in counseling psychology, Healthcare Bluebook's (Bluebook) provider operations specialist Vince Carroll always had an interest in helping people—especially if it meant tackling a problem from multiple angles. No matter what a person wanted to accomplish, Vince's goal was to find the easiest way to get them there with the least amount of hiccups.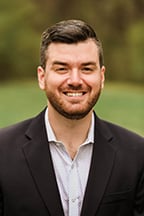 My entire background and training has been in the "helping" field, whether it was in psychology with one-on-one talk therapy or career counseling. I helped people work toward a goal, empowering them to recognize and use the skills within them to get there.
Vince applied these same skills at a law firm that specialized in insurance law working on behalf of employers and insurance companies to assist clients with third-party accident and medical malpractice cases where multiple parties and interests are at play. His job was to make sure that clients' legal rights, goals and target outcomes were protected. According to Vince, it was a different "flavor" of helping people but was still that top tier level of engagement with a client to ensure they had what they needed.
That same depth of personal interaction led Vince to Bluebook in 2018 when he joined the Member Services team as a member advocate. With his background in healthcare and healthcare law, Vince discovered he was a unique fit for the customer-facing "highly relatable" role helping members navigate the murky waters of the healthcare system.
Whether it's a colonoscopy or a complex—and often life-defining—surgery, Vince connects with members by applying his expertise behind the scenes in an industry that "goes unchecked and is difficult to translate on a daily basis." He actively listens for words and phrases that indicate a person feels uncertain.
They have that edge in their voice that says, 'I don't know what I'm supposed to pay or when I'm supposed to pay it.' It's very unclear to people, which is why we're here ... to help them clarify the care they need and feel more empowered in the process.
A patient may hear something from a doctor or billing specialist and take it as truth when other options are available, or as Vince explained, ways to "crack the code" in an industry shrouded in decision-making and authority.
Understanding the member's perspective is also crucial. If a person is in pain, they may be sleep deprived or too uncomfortable to deal with the details of finding the best healthcare for their needs, which makes it easy to forget that members are real people with short term needs for a long term solution.
The last thing they need to worry about are the ins and outs of medical billing when what they really need is a fix for their body and mind, something that smooths the pathway to a fuller life. Being able to step in and rip the cover off some of the mystery helps ease their burden and reduce their frustration.
From patient advocate to provider intermediary. In early 2020, Vince's natural curiosity and willingness to question the status quo shifted into high gear when he began working directly with providers as a Bluebook CareConnectSM provider operations specialist. Bluebook's latest innovation connects enrolled members to high-quality, reasonably priced physicians and facilities for specific shoppable complex procedures with extreme savings potential. In this niche role, Vince parses out the details of a procedure and negotiates with providers on behalf of members.
A Bluebook CareConnect In-Network Navigation member concierge is available to guide enrolled members to high-quality care, but in some cases, a member may have already scheduled a procedure through their provider. If Bluebook data indicate the provider has poor treatment outcomes, Vince is alerted and contacts the member to discuss possible alternatives.
The last thing we want is for a member to have a procedure, then be readmitted with complications. Typically, we can identify another in-network doctor in the same general location who can do the procedure at a fair price within a couple of weeks of their initial surgery date.
Loyalty to a physician or local hospital can be strong, Vince said, but personal interaction with members allows him to "get to the bottom" of those loyalties, which could be as simple as a web-based review touting short wait times or a friendly staff. While these are all important considerations when choosing medical services, he explains to members that what Bluebook offers is different than an observation made in a waiting room or treatment area.
Yelp tells them if the office staff was rude. We look at actual medical claims data like mortality and readmission rates, the effectiveness of the procedure and safety levels. We also know that not every hospital is great at everything and the facility they're considering may not specialize in the procedure they need.
While Vince doesn't try to discourage or dissuade someone from their treatment plan, especially if they are in pain, if they're open to higher quality, lower cost options, he uses Bluebook's data and reasoning to assist in the process. He recalled a member who was scheduled for a procedure with a referring physician who was ranked low on quality. After discussing alternatives, Vince helped the member switch to a different doctor who started their treatment with pain management rather than surgery, which delighted the patient and saved them considerable recovery time and money.
Sadly, patients often settle for a quoted rate at a familiar hospital believing it's their only option. Vince recently helped a father whose child needed an ACL repair. They were quoted a self-pay rate of nearly $21,000 by their physician, which was higher than the fair price of less than $14,000. Vince and the team found a high-quality local surgery center and negotiated a total fee of $11,700 with no payment due up front.
We took care of all the details to ease that burden for the patient ... the scheduling and medical records transfer, and all the thorny parts of the process. When I called the father to let him know the surgery was set, he was so grateful to have someone speak on their behalf. The gratitude in his voice is something I will never forget.
The process of finding high-quality care and scheduling complex procedures is cumbersome and can be annoying and frustrating for patients. When people are empowered to make informed decisions, they feel good about choices that allow them to live a happier life. Vince is eager to challenge a system that often goes unchecked and advocate for members who may be overwhelmed with life issues including the need for surgery.
While he may not be afraid to ask the tough questions and "get the needle to move" with providers, Vince said he also maintains a level of respect and understands that everyone is just doing their job, with one important difference:
I'm working for the patient, not the facility.
*****
A provider operations specialist is available to intercede with providers on behalf of all members whose benefits include Bluebook CareConnect In-Network Navigation.
Learn more about Bluebook CareConnect or Contact Us to try our free search tool or to schedule a Bluebook demo.
Part 4 of this series features Wesley Brown, Member Services Manager for Healthcare Bluebook.